Marvel's Spider-Man
Release date: September 7, 2018
Platforms: PlayStation 4
Marvel's Spider-Man Side Missions Walkthrough: How to Find and Defeat Taskmaster
This article contains information on how to track down and fight a villain. Here you'll find some tips and tricks, tactics, his weaknesses and specialties
---
Taskman is one of the antagonists in Marvel's Spider-Man. He has prepared different challenges for Spider-Man. Four types of challenges will appear on New York map after completing the What's in the Box main mission. Taskmaster's aim is to obtain data about Spider-Man.
He has a mnemonic ability which allows him to replicate his opponent's combat maneuvers and foresee the next attack. Taskmaster has been watching Spider-Man very carefully during the whole game story.
Here you can find out about his challenges and some tips on getting gold.
Finding Taskmaster
You don't have to look for the villain. Once you accomplish a certain number of missions, he'll show up. Then, after completing five different tasks with at least Amazing level score, you'll be suddenly ambushed by Taskmaster — he will come to challenge you personally.
You don't have to destroy him on the first try. If you lose, he'll just express his disappointment and recommend you to try harder next time. If the protagonist manages to beat him, the enemy will disappear, and you'll get 1000 XP.
Next time Taskmaster will appear after you complete all sixteen tasks (at least with bronze-level scores). Again, the villain will ambush you and force to fight. If you win, Taskmaster will stop bothering you and won't give you any information about those who asked him to test you. However, you'll earn 2500 XP.
If you lose, Taskmaster will be disappointed again. Then you'll have to redo one of the tasks to challenge him to a rematch. Basically, you have an unlimited number of attempts, but we believe that this guide will help you to defeat Taskmaster on the first try.
Defeating Taskmaster
He is a deadly opponent. Since the villain has been watching you the whole game, he can easily replicate Spider-Man's moves, such as Yank And Throw Environment, Swing Kick, combo attacks and even unblockable Instant Takedowns which cause a lot of damage.
We recommend you to master your fighting and dodge techniques and buy some useful Suit Mods before having a battle with Taskmaster. These are the most efficient upgrades:
Gel Padding: reduces melee damage. It makes Taskmaster's attacks less efficient in a close fight.
Discharge Power Cells: temporarily increase the damage after making a Perfect Dodge. It's more efficient to use them in a defensive position.
Kinetic Power Cells: faster focus generation. They are useful for healing.
First Aid: increases HP regeneration with the focus bar. It combines well with the previous mod.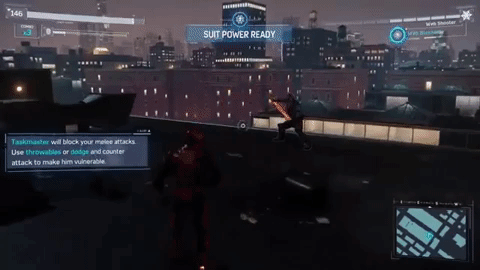 As for the suit mods, you can choose any you want. Battle Focus is useful for healing. Unrelenting Fur (Last Stand Suit power) makes your attacks unblockable which is really useful since...
He's a very defensive opponent with an impenetrable guard (don't even try to hit or knock him out using gadgets without "preparing" your target first), so you have only two options: make a Perfect Dodge or throw something heavy at him. Both of them will stun Taskmaster for a few seconds.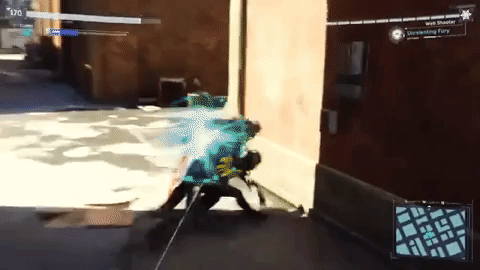 You shouldn't attack him too long. Don't be too aggressive and retreat after a series of successful hits, or you'll get a blow from Taskmaster. He regenerates very quickly and immediately starts to attack you.
Besides, he has a big range of skills. Apart from the Spider-Man's skills, the villain has an energy sword, the stun grenades and performs uppercuts and dropkicks. The following skills are the most irritating:
Shockwave: the opponent jumps into the air and slams into the ground. It causes a small earthquake. If you're out of the range of the shockwave, then you can dodge this attack. In all other cases, you should be ready to jump.
Web Strike: Taskmaster aims his wrist with a laser sight at you. Jump aside, or he'll fire a rope and hit Spider-Man hard.
Teleportation: the villain teleports in a cloud of smoke to appear at a different point in just a second (for example, behind protagonist's back).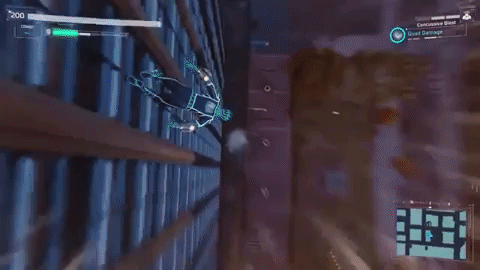 It's better to keep the distance from your enemy during a fight. This gives you enough time to block the attack. But don't be too far away from him — he can throw the binding ropes and freeze Spider-Man if he's not in range. You'll have to put some effort into freeing yourself from the ropes.
In general, let him attack you first. Always be ready to dodge (keep checking the indicator above Spidey's head), and then it will become possible to counterattack the enemy. You'll want to use your powers, however, the gadgets are of no use in this challenge, so don't use them for nothing.
Don't forget that you fight in an open area. You can take Taskmaster to the streets where there are many objects that can be really helpful. If you win, you'll get XP points and the Master of Masters Trophy.
---